Vi starter opp treninger fra mandag 19.august.
OPPDATERING ved Benterudhallen : Åpen for trening fra mandag 26.august.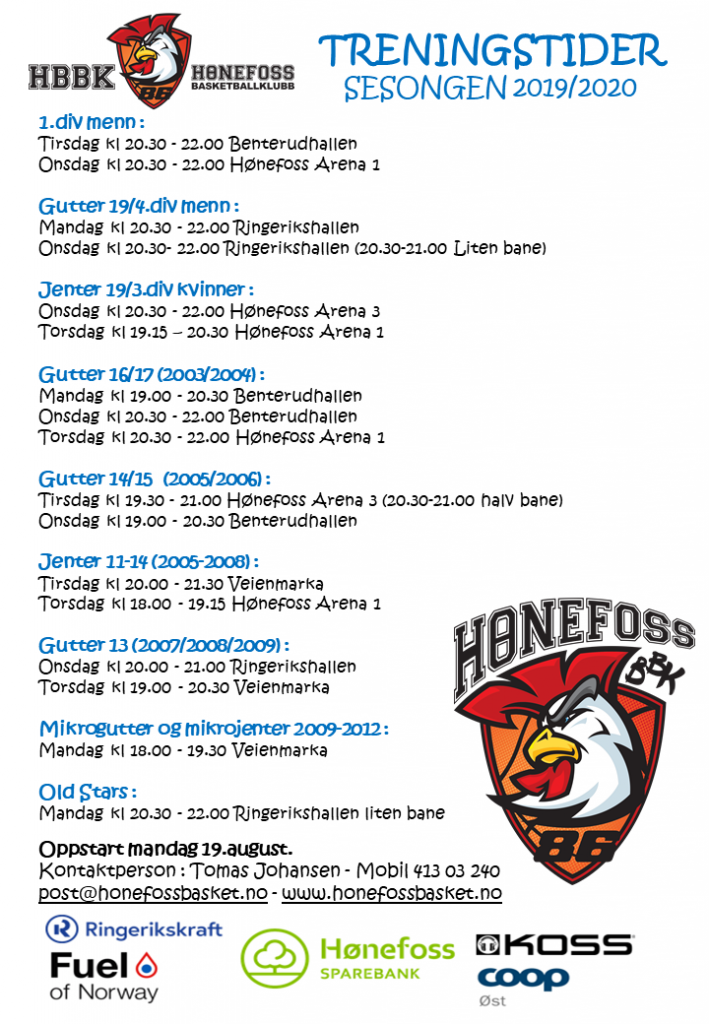 Som dere vil se av treningstidene ovenfor er det veldig mange sene økter, noe som er utenfor vår kontroll. Vi har fått et totalt timetall som vi er fornøyd med, men synes vi har fått for lite tidlige timer og for mye sent på kvelden. Det er dessverre ikke noe vi får gjort noe med, så vi må gjøre det beste ut av det !
Vi har prioritert de yngste lagene på de tidligste tidene, så de eldste lagene må trene til kl 22 en eller to ganger i uka. Det er dessverre nødt til å bli slik.
En annen ting som vi har vært nødt til å år er at noen lag må trene to dager på rad for å få to treninger pr uke, ikke ideelt, men vi velger å tenke positivt og tenker at vi får til det også !
Første treningsdag er mandag 19.august.
Eventuelle endringer av treningstidene vil publiseres på hjemmesiden og sendes ut på mail.
Kontaktperson : Tomas Johansen – 413 03 240 eller epost : post@honefossbasket.no